JKW18 baja tensión inteligente controlador de compensación de auto reactiva
。Clase de protección del equipo: aislamiento doble: clase II
。Sección de cable (para bloque de terminales): 2.5 mm2
。 Clase de protección de bloque de terminales: IP 00
。 Clase de protección: IP 20
。Conexiones: terminal de enchufe con tornillo
Detailed introduction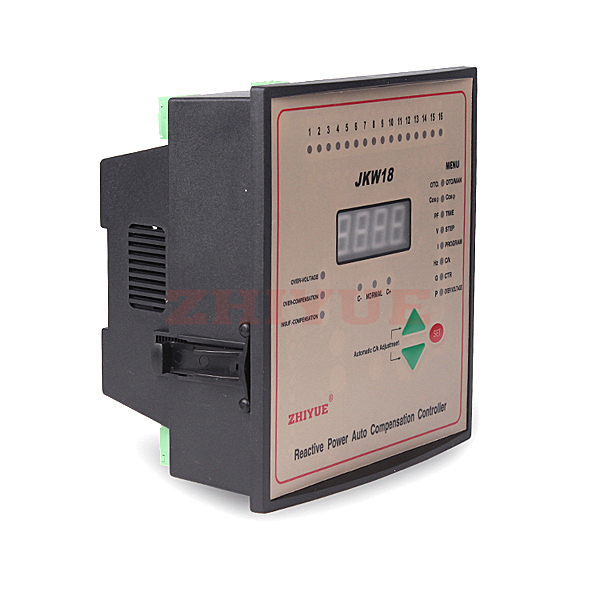 Controlador inteligente de compensación reactiva JKW18
Descripción del producto
El controlador inteligente de compensación automática reactiva de bajo voltaje de la serie JKW18 (controlador abreviado) se utiliza para medir y controlar las unidades de control del factor de potencia para la compensación de potencia reactiva centrlaoyu. El FACTOR DE POTENCIA medido por JKW18 se compara con los valores del punto de ajuste y para proporcionar la compensación necesaria, el Controlador de Factor de Potencia ENCIENDE y APAGA los bancos de condensadores automáticamente. -en los conectores, además muestra el Cos ¢ del sistema, en el modo de funcionamiento automático, JKW18 muestra el valor RMS de voltaje (V), corriente (A), potencia activa (KW) y potencia reactiva (KVar) de la fase de medición.
Datos técnicos:
Rated Voltage (Un):
220,230,240 VAC (Phase –Neutral Connection )
380,400,415 VAC(Phase-Phase Connection)
Operating Voltage Range:
(0.9-1.1)x Un
Rated Current(In):
…./5A
Operating Current Range:
(0.91-1.1) X In
Rated power:
Voltage: 3VA-10VA
Output Contact:
3A, 750 VA (NO Contact)
No-Voltage Feature:
in case of power failure longer than 200 msec. all capacitor steps are disconnected automatically .
Setting Range:
C/K:0.02-1.0 Steps: 1-12 COS¢ :0.85(ind.)-1.00
CTR:5-6000 Time:2-50 sec, Program:PS1-PS5
Over Voltage: 220-260V(380V-500V)
Factory Set Value:
COS¢=1.00(ind.),Step =12 ,Time=7(sec)
Program=PS1, C/K=0.05, CTR=500
Over voltage:240v/430v
Ambient Temperature:
-25degree -55degree.
Display:
4 Digit, Red Display.
Equipment Protection Class:
Double Insulation- Class II
Wire Section (For Terminal Block):
2.5mm2
Terminal Block Protection Class:
IP 00
Protection Class:
IP 20
Connections:
Socket terminal with screw
Dimension :
Type PR16
Switchboard Cut-out :
139X139MM
Weight:
0.8kg
If you have any enquiry about quotation or cooperation,please free to email us at niki@zhiyue.com or use the following enquiry form,Our sales representative will contact you within 24 hous.thank you for your interest in our products.